Our aim: to apply financial and commercial skills to structure projects outside the traditional silos.
Positivéco advises financial institutions, public actors, listed and non-listed companies.
Since 2009, we have been supporting climate investment and development aid projects; we evaluate CSR policies and carry out extra-financial reporting for our clients.
Discover the key milestones of our history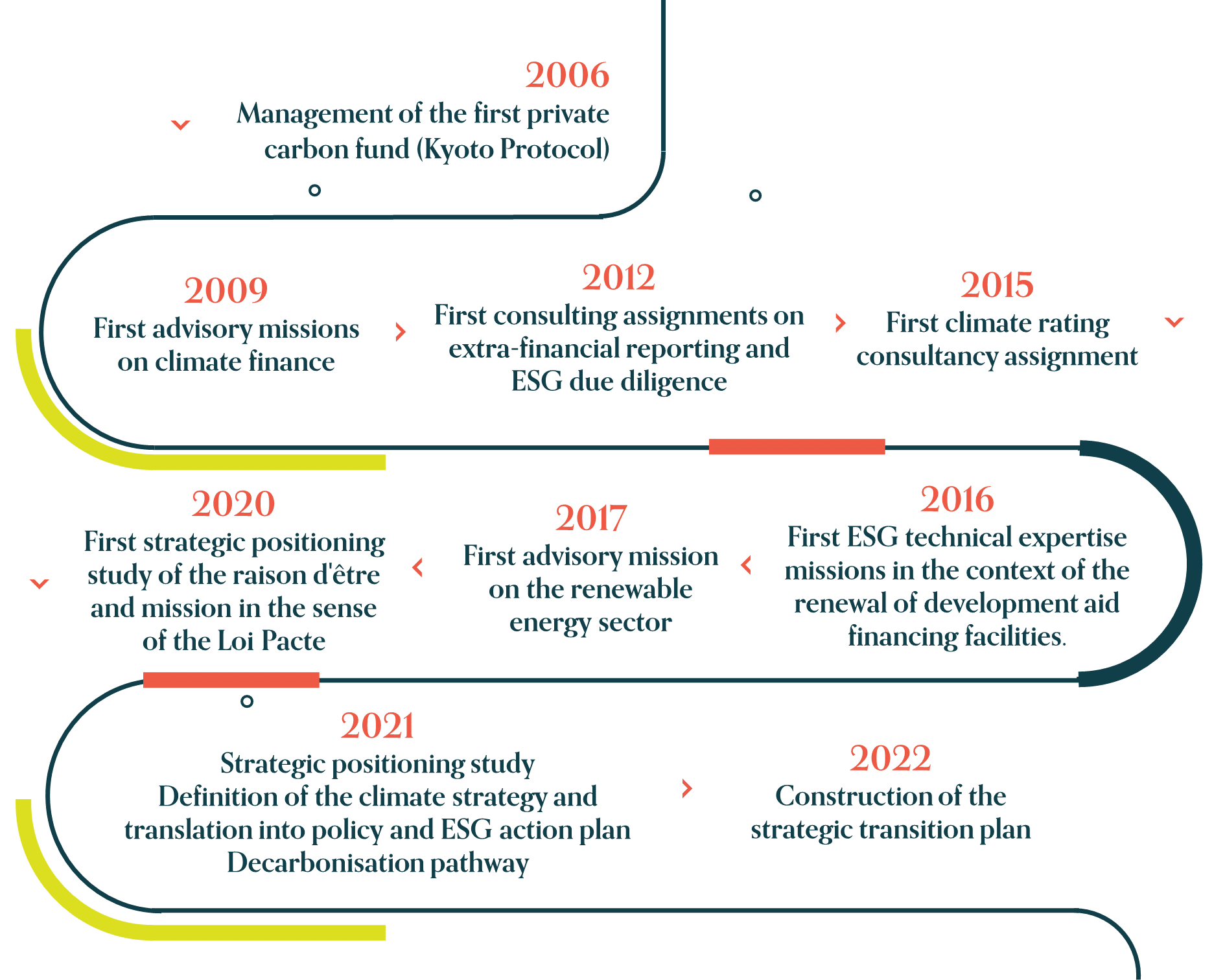 The values of Positivéco
Collaboration
Creativity
Empathy
Sense of reality
We are committed to you
Your success is our priority. Each of your assignments is treated with the same attention to detail from start to finish. We can work with you over the long term, depending on your needs.
6 out of 10 clients (have used 2 or more of our services)
(active client portfolio)
(one-off to recurring assignments)
Our requirement :
to help you achieve your economic objectives.
Are you looking for a trustworthy service provider who is committed to working with you?
Anne Dargelos, Founder and Sustainability Leader
Before creating Positivéco in 2009, Anne had a career in corporate and investment banking. A specialist in climate finance, greenhouse gas emissions, offsetting mechanisms and regulatory CO2 markets, she managed the world's first private carbon fund for Natixis Environnement et Infrastructures (now Mirova) for three years.
She created Positivéco in 2009 to advise companies, local authorities and banks and to carry out technical expertise missions on behalf of credit institutions in developing countries.
Her goal is to bridge the gap between the expectations of different stakeholders on the common subject of environmental and social responsibility.
We are committed to the climate.
We believe in the importance of consistency between the way we do business and the values we want to promote.
For more than ten years, Positivéco has been working to limit its environmental footprint by applying the rules of energy sobriety that it puts forward in its activity on CO2, to its own management.
For a service activity like ours, travel is the most significant environmental impact. We prefer to use trains rather than planes for domestic travel. We make 75% of our national trips by train rather than by plane. In addition, we avoid the use of paper printouts and take care to limit the carbon footprint associated with digital data storage.